Taylor Swift – The Eras Tour
May 5, 6 & 7
Nissan Stadium
Nashville, TN
Parking Lots Open: 12 p.m.
Gates Open: 4:30 p.m.
Show Starts: 6:30 p.m.
FAQs
Gate Times & Ticketing
General gate times?

General fan gates open at 4:30 p.m. each day

How do I enter floor/field seats?

Field seat tickets must enter at GATE 6. Upon entry a wristband will be issued for field access.

Is parking still available? Can you buy parking on-site?

All on-site parking at Nissan Stadium is sold out for all nights, you must have a pre-purchased parking pass to access any stadium lots.  Please visit https://www.tennesseetitans.com/stadium/parking-options for additional parking options around downtown. Rideshare is also a great way to get to the event, with pickup and dropoff located in Lot E.

Is there a box office I can call? And will any tickets be released at the box office?

Any ticket sales are online only via Ticketmaster.com. There will be no tickets sold at the box office. The box office opens at 1:30 p.m. on event days for customer service purposes only. 
Inclement Weather Policies
What is the inclement weather policy?

Umbrellas are not allowed inside Nissan Stadium, but rain ponchos are allowed in.
The most important instruction is to follow the directions of stadium staff and pay attention to the screens around the stadium! They will direct you where to go in the event of a shelter in place order.
The Nissan Stadium Twitter account will also be providing the latest updates on any weather-related instructions.
Stadium staff and screens will direct fans to covered or interior areas, such as ramps, concourses, and clubs.
If you are in your car at the time of the shelter in place, please remain in your car.
Accessibility & Stadium Policies
What is the clear bag policy?
Are portable phone chargers allowed?

Yes, portable phone chargers are allowed inside Nissan Stadium

Where can I purchase merchandise?

Wednesday, May 3 – Exterior Only — Lot R Grassy Area | 12 – 7 p.m.
Thursday, May 4 – Exterior Only – Lot R Grassy Area | 10 a.m. – 7 p.m.
Friday, May 5 – Sunday, May 7 – Lot R Grassy Area, Outside of Gate 1 and Outside of Gate 6 | 12 – 8 p.m.  Additionally, merchandise locations will be open on the concourse inside the stadium at various locations during the concert.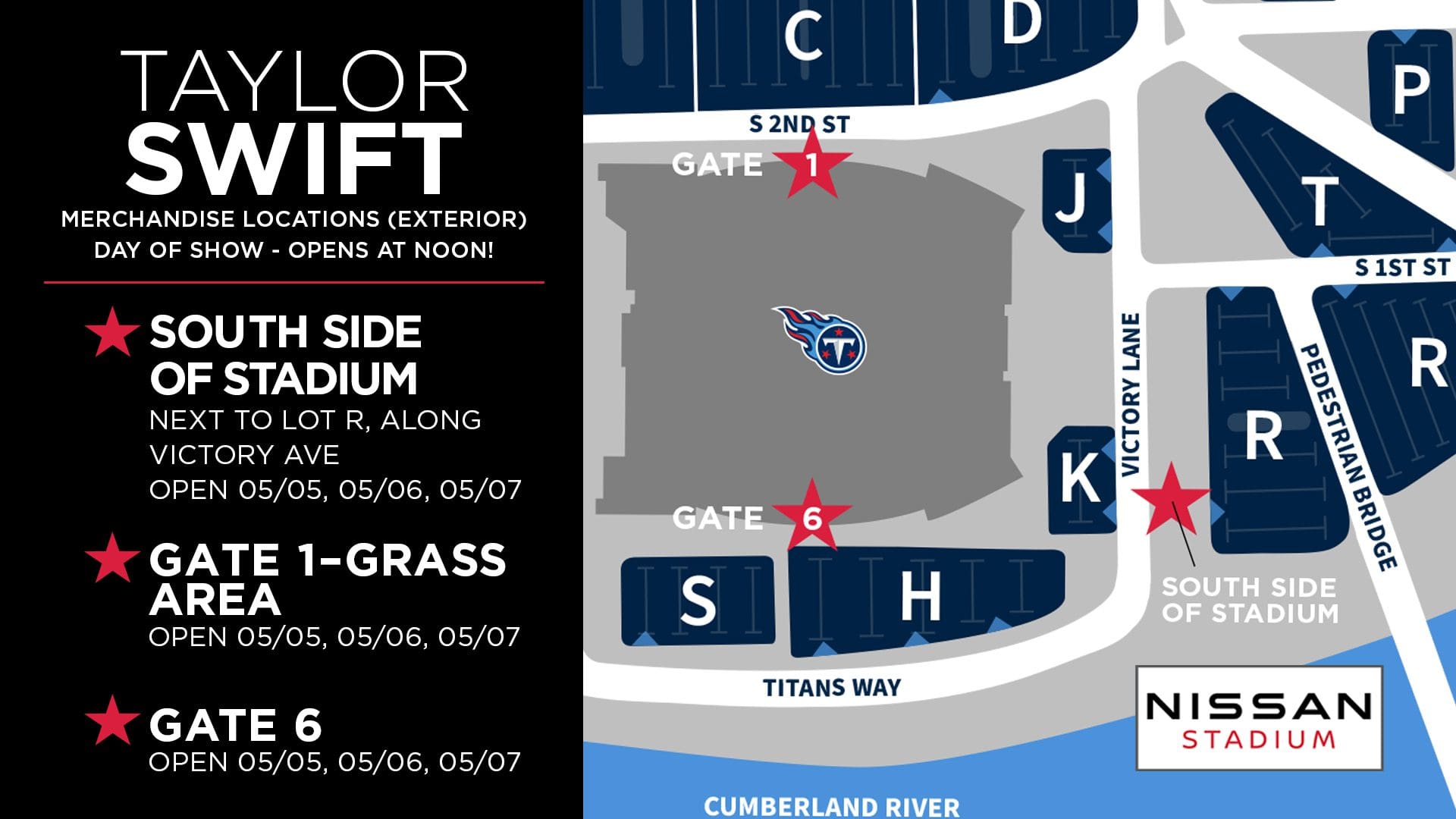 Additional Information:
Download Tickets in Advance
All tickets and parking passes are completely mobile at Nissan Stadium. PDF/print-at-home tickets are not accepted for entry into Nissan Stadium events. Download your ticket to your phone before you arrive at the stadium for the smoothest entry experience.
If you need assistance with your mobile tickets on event day, please visit the ticket windows by Gate 1 or find a mobile ticket specialist outside each entrance.
Be Cautious of Counterfeit Tickets
Ticketmaster.com is the only verified marketplace for tickets to the Taylor Swift – The Eras Tour shows at Nissan Stadium. Fans should be cautious of possible counterfeit tickets when purchasing tickets from anyone outside of Ticketmaster.
Nissan Stadium is a 100% mobile ticketing venue, and all fans should have their individual tickets downloaded to their phones prior to arriving.
Screenshots are not accepted, and the only tickets that will provide entry are tickets purchased or transferred through Ticketmaster.
New Rideshare Location
The rideshare dropoff and pickup location is in Lot E of Nissan Stadium.
Cashless Stadium
Nissan Stadium accepts credit card and mobile payment only, including all vendors, concession stands, bars, parking and retail locations. We offer cash to card conversion on the concourse near at Section 124 next to the Fan Services window.
Smoke-Free Facility
Nissan Stadium is a Smoke-Free and Vape-Free Facility. This includes cigarettes, vapes, e-cigarettes and any other similar product.  There are NO designated smoking areas inside the stadium and re-entry is prohibited.
Mobile Ordering
Skip the lines and order food and beverages from anywhere in Nissan Stadium with CHEQ Mobile Ordering.
Pick up locations can be found outside sections 108, 116, 131, and 139.